EPIC and IB class of 2025

We will begin Academic Advising after the Mardi Gras break. If you have not received communication via email and the US postal service, please reach out to Mrs. Martin (semartin@mcpss.com) or Mrs. Cauley (acauley@mcpss.com) so we can verify your address.
We will update this page with information about tryouts and auditions as we receive them.
We look forward to seeing you soon!
Welcome Davidson Class of 2025!
Don't miss info about your sport/activity...
Activity

Faculty Sponsor
Contact Info
Other information
Freshman Cheer
Ms. Wilhelm
kwilhelm@mcpss.com

Cheer packets due Friday, April 16.

Kinetics Dance

and

KDC2

Mrs. Dussouy
adussouy@mcpss.com

Auditions: Thurs, May 6 @ 3:30pm

Color Guard

Ashley Parham

Mr. Messer

kilcrease.ashley@gmail.com

jmesser@mcpss.com

Tryouts April 26-30

from 4:30 - 6 pm

Marching Band
Mr. Messer
jmesser@mcpss.com
Football
Coach Cauley

rjcauley@mcpss.com

Cell #401-0840

Any 8th grader interested in playing football is invited to after school workouts every Tuesday and Thursday from 3:30-4:30 in our field house. We would like all Future Warriors to participate in our Spring Training that begins the last week of April.

Contact Coach Cauley with any questions!

Swim/Dive
Mr. B. Duke
bduke@mcpss.com
Volleyball
Mrs. Barbosa
jfbarbosa@mcpss.com

Tryouts April 19-22; 3-5 pm Tryout Remind Code Text @3g74gg3 To 81010

Cross Country
Coach DeLange
adelange@mcpss.com
Boy's Soccer
Coach DeLange
adelange@mcpss.com
Girl's Soccer
Mrs. Harmon
wharmon@mcpss.com
Track
Coach Eubanks
keubanks@mcpss.com
Wrestling
Coach Jones
bjones3@mcpss.com
Archery
Mr. Piper
thomaspiper@yahoo.com
Bowling
Coach Lambert
jlambert1@mcpss.com
Baseball
Coach Massengale
tmassengale@mcpss.com
Basketball (Boys)
Coach Diaz
jdiaz-acosta@mcpss.com
Basketball (Girls)
Coach Shipp

cshipp@mcpss.com

Cell #767-0728

Evaluations: May 7 @ 3 pm

Softball
Coach Poole
gpoole@mcpss.com
Scholar's Bowl
Mr. B. Duke
bduke@mcpss.com
Hi-Q
Mrs. Smith
tsmith1@mcpss.com
DIMUN
Mrs. Golson
ggolson@mcpss.com
Mock Trial
Mrs. Spann
mspann@mcpss.com
Broadcasting
Mr. J. Duke
jmduke@mcpss.com
The MCPSS Signature Academy application portal is now closed.
If you are interested in a Davidson Academy, please contact Sara Martin, at semartin@mcpss.com or 251-221-3084.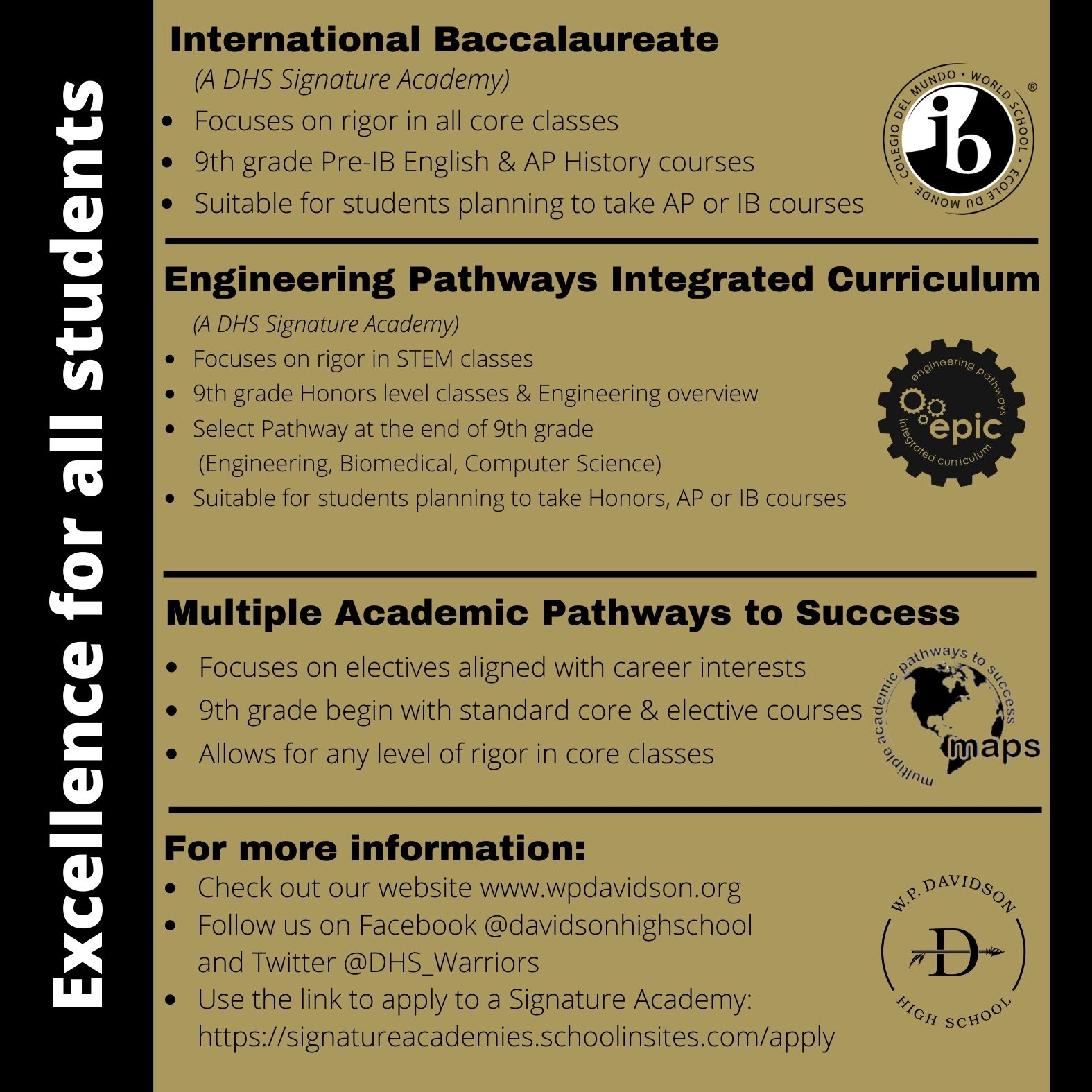 If you were unable to join us Sunday, November 8 for 8th Grade Preview Day, you can learn more about the Academies at Davidson High School by accessing the Nearpod here or hearing from our Academy Specialist, Sara Martin, in the recap video.
We would love to answer your questions about this process.
Academy Specialist:
Sara Martin
semartin@mcpss.com
251-221-3084
IB Coordinator:
Ashley Cauley
acauley@mcpss.com
251-221-3086
9th Grade Counselor:
Cassandra Holman
cholman@mcpss.com
251-221-3084