Coffee with the Coordinators

Do you have specific questions about our Academy programs? Register for a small group, Q&A session with both the EPIC and IB Coordinators.
The MCPSS Signature Academy application portal will open October 19 through December 10.
If you are interested in a Davidson Academy, please contact Sara Martin, at semartin@mcpss.com or 251-221-3084.
Don't miss info about your sport/activity...
Activity

Faculty Sponsor
Contact Info
Other information
Freshman Cheer
Ms. Wilhelm
kwilhelm@mcpss.com

Kinetics Dance

and

KDC2

Mrs. Dussouy
adussouy@mcpss.com

Color Guard

Ashley Parham

Mr. Messer

kilcrease.ashley@gmail.com

jmesser@mcpss.com

Marching Band
Mr. Messer
jmesser@mcpss.com
Football
Coach Cauley

rjcauley@mcpss.com

Cell #401-0840

Swim/Dive
Mr. B. Duke
bduke@mcpss.com
Volleyball
Mrs. Barbosa
jfbarbosa@mcpss.com

Cross Country
Coach DeLange
adelange@mcpss.com
Boy's Soccer
Coach DeLange
adelange@mcpss.com
Girl's Soccer
Mrs. Harmon
wharmon@mcpss.com
Track
Coach Eubanks
keubanks@mcpss.com
Wrestling
Coach Jones
bjones3@mcpss.com
Archery
Mr. Piper
thomaspiper@yahoo.com
Bowling
Coach Lambert
jlambert1@mcpss.com
Baseball
Coach Massengale
tmassengale@mcpss.com
Basketball (Boys)
Coach Diaz
jdiaz-acosta@mcpss.com
Basketball (Girls)
Coach Shipp

cshipp@mcpss.com

Cell #767-0728

Softball
Coach Poole
gpoole@mcpss.com
Scholar's Bowl
Mr. B. Duke
bduke@mcpss.com
Hi-Q
Mrs. Smith
tsmith1@mcpss.com
DIMUN
Mrs. Golson
ggolson@mcpss.com
Mock Trial
Mrs. Spann
mspann@mcpss.com
Broadcasting
Mr. J. Duke
jmduke@mcpss.com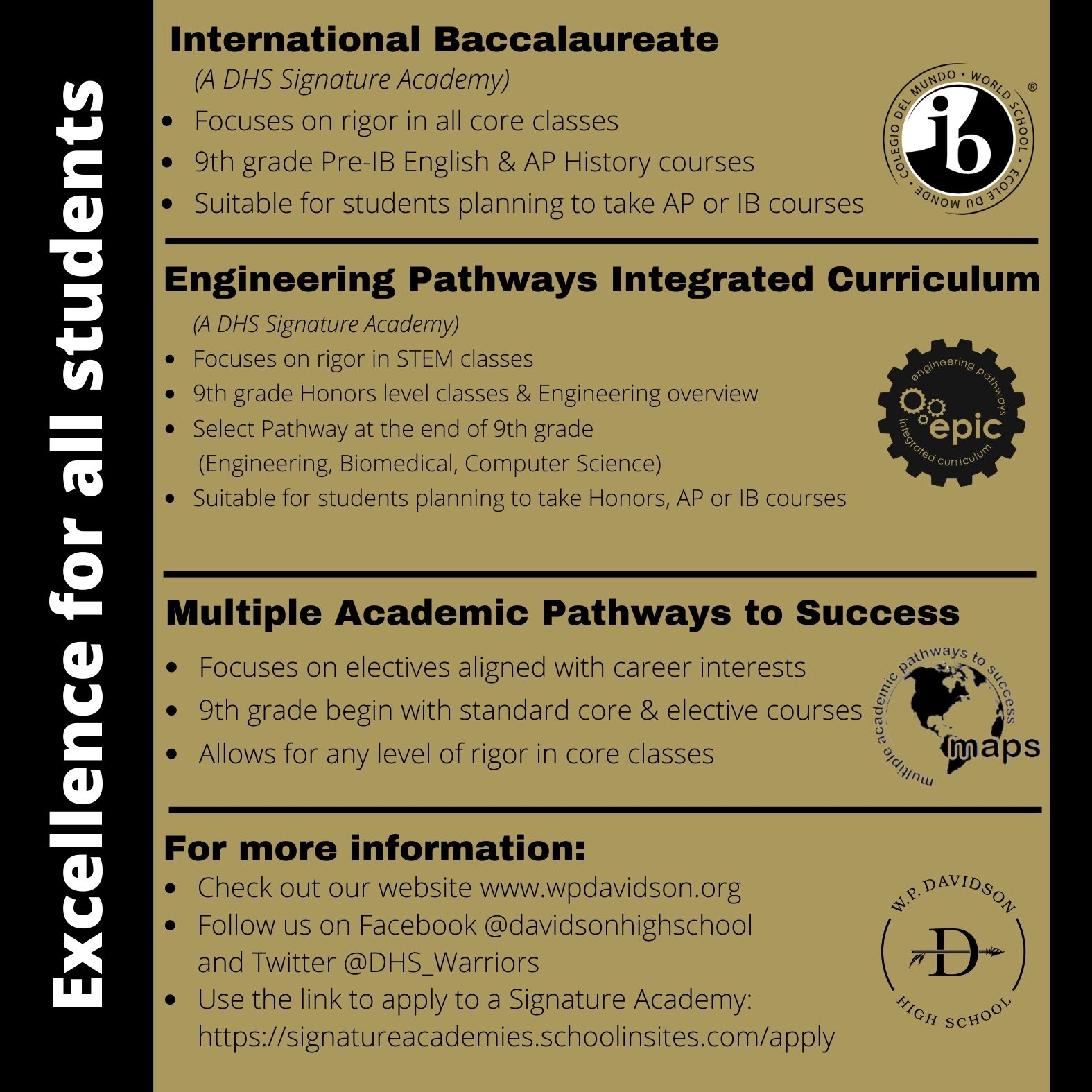 We would love to answer your questions about this process.
Academy Specialist:
Sara Martin
semartin@mcpss.com
251-221-3084
IB Coordinator:
Ashley Cauley
acauley@mcpss.com
251-221-3086
9th Grade Counselor:
Lettie Duke
sduke@mcpss.com
251-221-3084