Graduation Information
Graduation 2020 will look a little different than what we are used to. Please read this letter carefully so that you and your family can have the best experience possible.
Graduation will take place at Ladd Stadium on Friday, May 29th.
Graduates need to be at Ladd no later than 3:15 and dressed for graduation in cap and gown. Report to the Home entrance.

Gates open to guests at 4:30

Commencement begins promptly at 5:30

Parking is free

All rules for Ladd Stadium will be strictly enforced. No umbrellas will be allowed and CLEAR bags ONLY. No outside food or drinks including water bottles.

There will be a wheelchair accessible area.
Tickets
Each student will receive 5 tickets. We have no control over this situation.

Tickets are watermarked and cannot be duplicated

Employees of Ladd Stadium will be collecting and scanning tickets

All five ticket holders in a family MUST sit together
Dress Code
It will be hot! The dress code will be a bit more relaxed
Ladies:

o Appropriate dress under the gown. We would prefer that your dress be black if it shows below the gown, but that is not required.

o Shoes must be black and flat or a very short, wide heel. You will be walking across a football field and heels do not work on a football field. You will get stuck and lose a shoe.

Gentlemen:

o Slacks, dress shirt, neck tie and dress shoes.

o Shoes must be dress shoes and black. No tennis shoes, cowboy boots, flip flops, or slides.

o A tie is required and should be dark in color.

COVID 19

EVERY ATTENDANT MUST WEAR A MASK.

NO ONE will not be allowed to enter Ladd Stadium without a mask (including children).

You must follow all Covid 19 Social distancing rules. Remain 6 ft apart and keep your mask on.

There will be a heavy police presence who will be monitoring the stands to make sure the COVID 19 rules are being followed.

Extra:

Diploma pick-up will take place on June 5th in the back parking lot of Davidson from 9:00 a.m.- 11:00 a.m. Your report card and immunization card will be included in your diploma envelope.
Look for the Class of 2020 layout in the May 21st issue of the Lagniappe.
Senior Information
This year we are offering three options for Senior fees: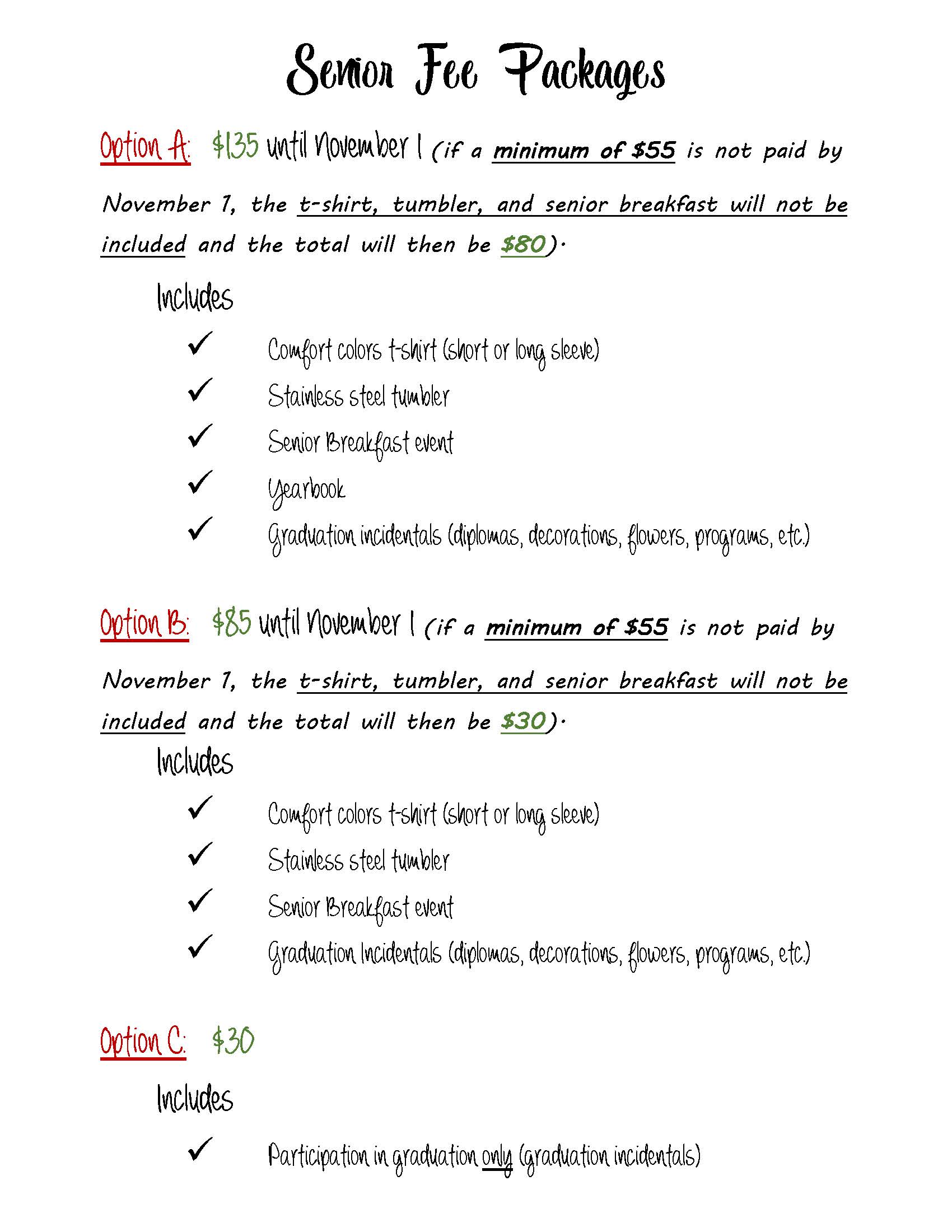 Please notice that the cap and gown fee increased to cover taxes. THIS IS NOT INCLUDED IN THE SENIOR FEE.

Please join Remind to get notices and important information. Parents wanting to join the Remind account for all senior information,
text @cg8cb8 to 810-10 or @af9b8b to 810-10.

If you have any questions, please call or email me. My email address is rmassengale@mcpss.com. My school phone number is 251-221-3084 ext. 23004. Remember, you can also message me through Remind.

Thank you,

Rhonda Massengale

Senior Sponsor